Heating and Cooling Company in Cincinnati, OH
Welcome to Cincinnati's Own American Heating & Air Conditioning Co.!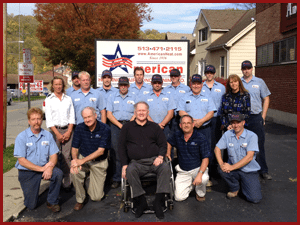 Ask your Grandfather! Chances are that American installed the first boiler in your dad's house, or put the first HVAC system in the office or plant where he worked.
It proves that experience and reliability are the reason why American Heating and Air Conditioning has been around for so long… and will be here tomorrow when you need us.
American Heating and Air Conditioning is a local Cincinnati heating, cooling, and air conditioning (HVAC) company with over 75 years experience in the field. In fact, we just celebrated our 75th anniversary so browse our site and find out how we can help you like we've helped hundreds of businesses and consumers in the Cincinnati and tri-state areas over our near century of providing quality HVAC products and services.
Not sure where to start? No problem, try one of these:
New address is 3953 Red Bank Rd. Cincinnati, Ohio 45227.